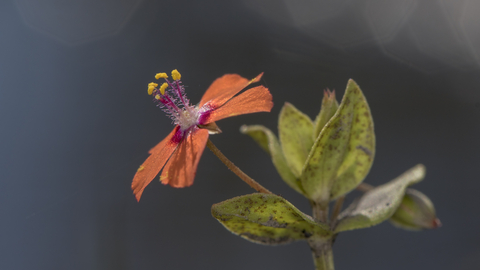 Scientific name:
Anagallis arvensis
Once considered a weed of cornfields, the Scarlet pimpernel is now in decline due to intensive agricultural practices. It can be found in arable fields, on roadside verges and waste ground, and on coastal cliffs.
Top facts
Category
Stats
Height: up to 30cm
Conservation status
Common.
When to see
June to September
About
Flowering between June and September, Scarlet pimpernel is a common arable weed and is most famous for being the emblem of the fictional hero of the same name. It is sometimes also known 'Old man's weathervane' or 'Shepherd's weather-glass' as the flowers close when atmospheric pressure falls and bad weather approaches. Scarlet pimpernel can be found in arable fields and gardens, on coastal cliffs, roadside verges and chalk downlands.
What to look for
Scarlet pimpernel has red flowers with five petals, each fringed with many tiny hairs; sometimes its flowers can be blue. Its leaves are unstalked and oval, sitting on trailing stems.
Where to find
Widespread across the UK, but scarcer in Scotland.
Did you know?
Set during the French Revolution, The Scarlet pimpernel is an adventure play and novel written by Baroness Emmuska Orczy in which a masked hero attempts to save the doomed French aristocracy from the guillotine. Only his close followers know his true identity and he signs his messages with the small red flower from which he gets his name.