Your WILD artwork!
If you read our Wildlife Watch magazine, you'll have seen some of the awesome artwork sent in by readers. From sculptures and photography, to collages and paintings, we love seeing your wildlife inspired creations. Check out a few of the entries below and drop us an email if you'd like to share your creations on the page!
In the banner at the top of the page you can see Bumble bee by Mia age 10, Moth by Elvie, Elephant hawk moth photo by Ritchie, Red squirrel by Sammy age 8, Deer collage by Annabelle age 11, Tansy beetle photo by Molly age 11, and Kingfisher by Cassius age 6.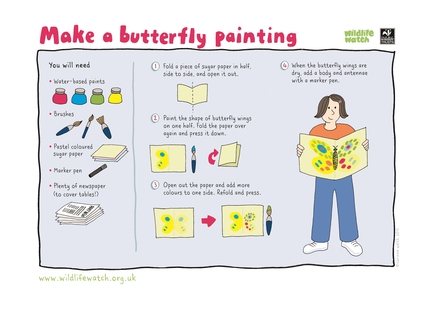 For more wildlife-inspired art ideas, check out our activity sheets! Why not try creating a butterfly print using paint and paper to mimic their symmetrical wing pattern. Or print off a mask template - like this kingfisher - to cut out and colour in. 
You can also take a look at some of our Wildlife Wednesday videos for creative craft ideas. From salt dough leaf art and natural weaving, to making a basking shark out of a recycled plastic bottle, there's lots of fun ways to get making.