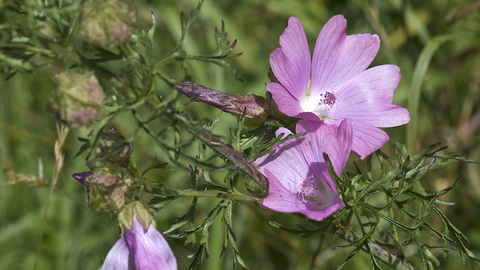 Scientific name:
Malva moschata
Musk mallow has pretty pink flowers that can be seen along roadside verges, hedgerows and field margins in summer. It lives up to its name, producing a delicate, musky smell that increases indoors.
Top facts
Category
Stats
Height: up to 1m
Conservation status
Common.
When to see
July to August
About
An elegant relative of Common mallow, Musk mallow has delicate pale pink flowers that appear in July and August. It grows on roadside verges and field edges, and in hedgerows, pastures and churchyards. It favours dry places and is a popular cottage garden plant.
What to look for
The saucer-shaped flowers of Musk mallow and have a musky smell, hence the common name. They have five petals, which are pale pink with fine, dark pink veins. The stems and deeply lobed leaves are hairy.
Where to find
Mainly found in England and Wales, but can be seen in parts of Scotland and Northern Ireland.
Did you know?
If you live in a dry, sunny corner of the country, try planting Musk mallow alongside Marjoram, Field scabious, Cornflower and Greater knapweed, and enjoy the buzz and hum of insects visiting your miniature wildflower meadow.