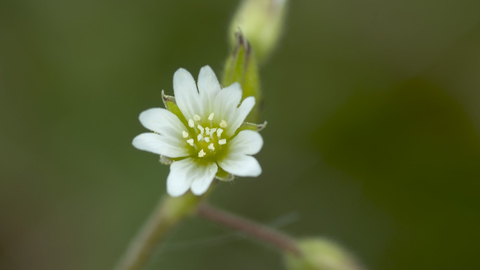 Scientific name:
Cerastium fontanum
Common mouse-ear is a persistent 'weed' of fields and gardens, verges and hedgerows - all kinds of habitats. But, like many of our weed species, it is still a good food source for insects.
Top facts
Category
Stats
Height: up to 30cm
Conservation status
Common.
When to see
April to September
About
Common mouse-ear is a kind of chickweed with tiny white flowers that is found in all kinds of habitats all over the UK, from gardens to grasslands, waste grounds to walls. It flowers from April to September and its thought that its seeds can last in the soil for up to 40 years. It is considered a weed of cereal crops.
What to look for
A low-growing, spreading plant, Common mouse-ear has tiny, white, five-petalled flowers; its dark green leaves are covered with white hairs.
Where to find
Widespread.
Did you know?
A single Common mouse-ear plant can produce as many as 6,500 seeds!