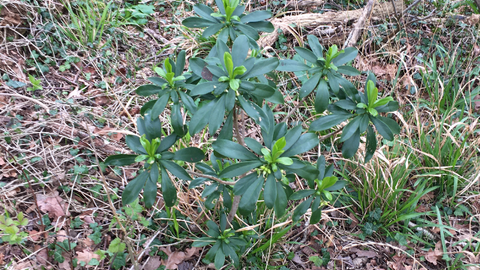 Scientific name:
Daphne laureola
Despite its name, Spurge laurel is not a laurel - it just looks like one! It has glossy, dark green leaves and black, poisonous berries, and can be found in woodlands in southern England, in particular.
Top facts
Category
Stats
Height: 1.5m
When to see
January to April
About
Spurge laurel is an evergreen shrub with glossy leaves that is found in open woodlands and hedgerows on chalky soils; it is particularly fond of beech woods. Its green clusters of flowers appear over winter, from December to April, and are followed by black berries. It is a highly poisonous plant to humans, but not to birds.
What to look for
A small shrub, Spurge laurel has dark green, shiny, narrow leaves that are clustered at the top of each stem. The small, yellow-green, four-lobed flowers are tubular and borne in clusters. They are followed by green, egg-shaped berries that ripen to black.
Where to find
Widespread, but scattered distribution, in England and Wales.
Did you know?
Despite its name, this shrub is neither a spurge nor a laurel - it's one of two species of Daphne native to the UK (the other is Daphne Mezereum).