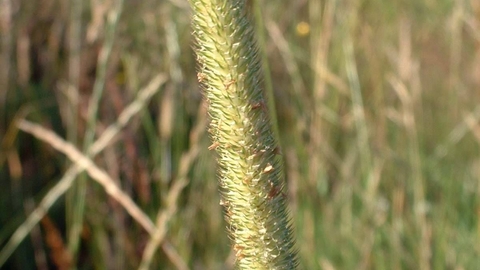 Scientific name:
Phleum pratense
Timothy is a grass of meadows, arable land, waste ground and roadside verges. It is also cultivated as fodder for livestock. Look for slender stems and long, cylindrical flower spikes in summer.
Top facts
Category
Stats
Height: up to 1m
When to see
January to December
About
Although it is a common native grass, Timothy is actually named after an American farmer, Timothy Hanson, who introduced it into California in the 18th century. In the UK, Timothy can be found in meadows and arable fields, and on waste ground and roadside verges, flowering from June to August. It is often cultivated as a fodder plant for livestock.
What to look for
The long, dense flower spikes of Timothy are cylindrical in shape and sit atop a tall, slender stem. Its leaves are grey-green and flat.
Where to find
Widespread.
Did you know?
Timothy is the foodplant for the caterpillars of the Essex Skipper and Small Skipper butterflies.