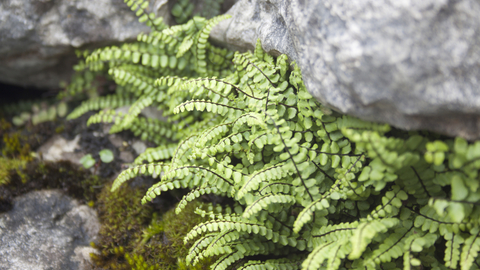 Maidenhair spleenwort
+
-
Scientific name:
Asplenium trichomanes
A small, tufted fern, maidenhair spleenwort can be found growing out of crevices between rocks, in walls and on mossy branches across the UK.
Top facts
Category
Stats
Height: 15cm
When to see
January to December
About
Maidenhair spleenwort is a small fern that can be found growing in tufts on rocks, old walls and mossy branches. This pretty fern is ideal for gardens - plant it in sloping rockeries, crevices or walls for attractive cover all year-round. It spreads by means of spores, so new 'crowns' should establish themselves naturally.
What to look for
An easily recognisable fern, maidenhair spleenwort has long fronds made up of short, round leaflets paired from a central black stem.
Where to find
Widespread.
Did you know?
Maidenhair spleenwort occurs right round the world, from Tasmania to Turkey!