From the comfort of your own home, with a DIY rockpool ramble or a socially distanced sea-watch, help us discover and celebrate our wonderful shore and seas.
National Marine Week runs from 25th July to 9th August 2020 – a full fortnight to take advantage of the changing tides. No matter where you are around the UK, join in and celebrate our fin-tastic seaside wildlife.
What will you discover?
Activities to do at home
Why not try some fun marine-themed activities? There are spotting sheets, colouring in and even crafts to try. Let us know how you get on!
Love it, protect it!
The marine environment around the UK is alive with corals, seahorses, whales, dolphins, seals and sharks! Marine habitats include undersea cliffs, caves, chasms, mountains, dunes and plains. Our seas are home to thousands of creatures and plants but in many areas they are threatened by damaging activities. These include building, fishing and plastics. We need to make sure our wonderful marine environment is given the proper protection it deserves!
What can I do to help?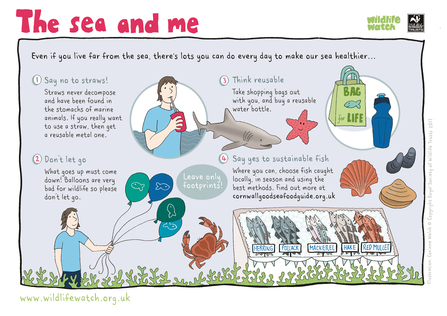 Get involved this National Marine Week!
Although not all events can take place this year, there are still lots of awesome online activities for you to take part in! Dip into virtual tours of the shore or learn about the wonders of the sea at home via video. And if you are lucky enough to get to the seaside, some Wildlife Trusts are organising socially distanced seashore events, so check online before you go.
Find out more about this week's events here.
We'd also love to know what you spot! Download our shoreline spotting sheet here and submit your sightings.