Hidden beneath the sea's surface
This is an amazing and little known world with corals, seahorses, whales, dolphins, seals and sharks! Marine habitats include undersea cliffs, caves, chasms, mountains, dunes and plains. Our seas are home to thousands of creatures and plants but in many areas they are threatened by damaging activities. These include building and fishing. We need to make sure our wonderful marine environment is given the proper protection it deserves!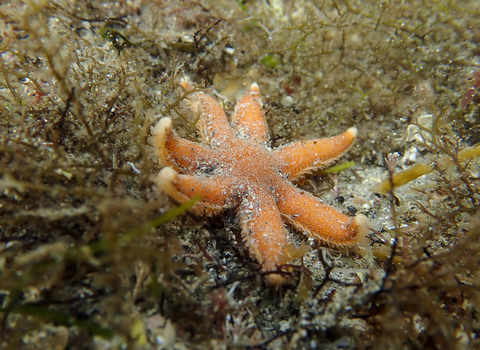 Did you know?
Starfish may look cute and harmless, but they're actually predators with a big appetite. Their favourite food are mussels. To eat them, they use their hundreds of tube feet to grab onto the shell and pull it apart. It then pushes its stomach out of its mouth and into the mussel's shell. Enzymes then turn the mussel into a soup-like liquid - a starfish delicacy - yummy!
Wildlife to look out for!
Rockpool animals
Rockpools are filled with all kinds of wonderful creatures.
Fish
Our seas are teeming with life! Most fish we never see but jellyfish can often be spotted washed up on the beach.
Have you ever wondered what happens at the beach when you're not there? Join Dr Tasha Phillips as we delve into rock pools and walk along the shore line to find out!
Want to get crafty? Get some supplies together and make a puffin pencil pot with Jess from Lancashire Wildlife Trust's Living Seas team!
More habitats